Our Clergy
Father Alex Poblador
Fr. Alex Poblador joined us September 2015, here is his message of greeting on arriving in our community:
Praised be Jesus and Mary!
My greetings to all of you, dear parishioners of St. James the Less and St. Helen. I am Fr. Alex Poblador, a Rogationist religious priest from the Philippines. Last July of this year I received a letter of appointment from our very own Bishop Alan Williams, assigning me as your Assistant Parish Priest. So, I prepared myself right away and pack-up my bags to come here without much delay.
When I arrived to this parish for the first time I remembered that it was Fr. Anthony Mckentey (Parish Priest) who opened the door for me and give me a big welcome smile... I was so happy indeed and I said to myself... "This is it! I'm home!" Such a very warm gesture accorded to me by him was so significant and profound. Someone new in a place like anywhere else would normally expect a different scenario. Yet, the first moment I met Fr. Tony, I exclaimed, I belong here!
Thus, with gladness in my heart I express my gratitude to him until now and to all of you who showed to me the same warmth, thus making me feel indeed at home, for after all we belong to one big family of our Parish. Your acceptance, as what Fr. Tony did, means a lot for me as your new Assistant Parish Priest.
By the way, please allow me to tell you something about myself. I'm the youngest in the our family of six siblings. I was born in Manila but I grew up in a small town called Zarraga in Iloilo City. Since I was 8 years old I had already the attraction to become a priest and so I applied to become an altar server in our parish. Since then that attraction turn into a desire and from that desire a choice was made. That was the beginning of my vocation journey to priestly life.
After I completed my formative years in the Philippines, I have dedicated the first years of my priesthood in the field of formation and pastoral care for vocations. Being a Rogationist religious missionary I have had also the opportunity to be assigned in some countries and missionary stations where our Congregation is present such as in Albania, Italy, Spain and presently here in England.
Now, I'm nearing my 14th year in the ministry and I would say, I love it! For this reason I will always thank God for giving me this gift of priesthood and I ask you to please pray for me so that I can persevere in this kind of life, because I know that without his guidance and blessings nothing would be possible.
Having all these experiences I must say, I'm happy and contented for all the blessings and graces our Lord has bestowed upon me. Hence, may I ask you to join me in asking the Master of the vineyard to send to the Church, particularly here in our Diocese, not only many but holy vocations to the priestly and religious life, to further the mission of evangelization. Amen.
Send, O Lord, Holy Apostles into your Church!
------------------
Father Philip Willenbrock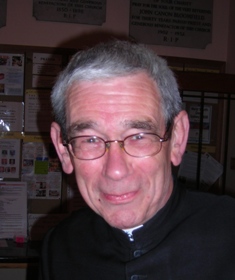 Apart from my father, several other people have had a profound influence on my spiritual life. At Christ's Hospital (the Blue Coat School near Horsham) I came under the influence of the Anglican Chaplain who later became a monk at Ampleforth.

At Keble College the Warden, Dr Austin Farrer a great Anglican theologian, gave me encouragement and friendship. While working in Cornwall as a GP the Anglican Bishop of Truro, the late Mgr Graham Leonard, told me that he thought I should be ordained and continue working as a GP. This happened in 1982.

Later I moved with my family to Essex having trained as a teacher. In 1992 I was received into the Catholic Church. Having undergone formation at Wonersh, I was ordained priest during 1997 in Brentwood Cathedral together with three other former Anglicans.

Since then I have ministered in St James the less and until 2007 continued to teach at St Benedict's College.

Father Anthony McKentey
Fr Anthony McKentey was the Parish Priest of Colchester between October 2009 and September 10, 2017.

Fr Tony, as he is usually known, was born in Chelmsford in 1950. He attended St Philip Priory School there, and then Campion School, Hornchurch, when it first opened in 1962. After school, he worked for a short time at the Prudential Insurance Company in Holborn. In the summer of 1970 he paid his first visit to Lourdes which was a turning point in his life, and on his return applied to Bishop Casey to study for the priesthood.

He began his seminary studies at St Edmunds College, Ware, in September 1970 and was ordained in the College Chapel there as a Deacon on the 29th June 1975. He served as a Deacon in St Mary's, Hornchurch and was ordained to the Priesthood in his home parish of Blessed Sacrament, Chelmsford, on March 27th 1976. He served as Assistant Priest in Holy Family, Benfleet, from 1976 to 1979; St Augustine's, Barkingside from 1979 to 1983 and Brentwood Cathedral from 1983 to 1988. In 1988, he went back to St Augustine's, Barkingside, as Parish Priest when it became a "one-man" parish, and remained there until his Silver Jubilee in 2001. During his time there funds were raised to set up a Parish Youth Centre and one of the parishioners, Paul Fox, was ordained there in 1998. In 2001, Fr Tony was appointed to Our Lady Queen of Peace, Braintree, where he spent eight happy years until the Bishop asked him to become Parish Priest of Colchester.

Fr Tony then moved to St Francis of Assisi, Halstead as the Parish Priest.
Sadly, he died on December 9, 2017 and his funeral Mass was held on December 22, 2017. May his soul rest in peace. Amen