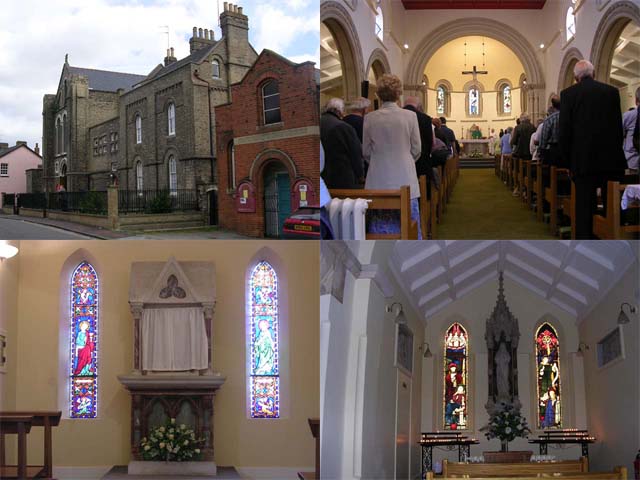 Welcome to St. James the Less and St. Helen Catholic Church.
St. James the Less and St. Helen Catholic church is an open and growing community located in the historic town of Colchester in England.
Our main building is located in Priory Street, Colchester. Mass centres are located in other areas of the town.
Covid-19 Update
Dear Parishioners and Friends,
We plan to return to celebrating Mass from Monday 6th July if we have enough Stewards/Cleaning volunteers in place. Seating capacity will of course be much reduced as we respect the 2 metre rule. A booking service for mass attendance has had to be put in place (contact details may have to be supplied for Track and Trace); you can only attend mass if you have booked a place (!).
Booking can be made by visiting MassTimes page.
We request that you limit yourselves to one mass per person per week to ensure a fair distribution of seats are available for everyone wishing to attend a weekly mass (note that Sunday obligation remains suspended), although we will have a system for attending more if spare places are available. It will be essential that people sit where they are asked and do not move from there. Please note that the toilets will be closed. Practical points:
- Churches will open 20 minutes before start of Mass
- Entrance via the main door, exit by the side door;
- Hand sanitiser available at entrance and exit, though you may bring your own;
- It will take longer than normal to enter the church, please make allowances;
- An Offertory Collection will be taken daily at each mass with Collection bags available on entry and exit; the donation station is also useable;
- Candles may be lit after Mass – Instructions to follow
- Church opening for Private Prayer will be stopped when Masses resume
- Other changes to the celebration will be announced in church.

Anyone displaying symptoms of Covid-19, or who has reason to believe that they have been in contact with someone who has, should not attend church or volunteer in any capacity until they have received medical advice that it is safe to do so.
.