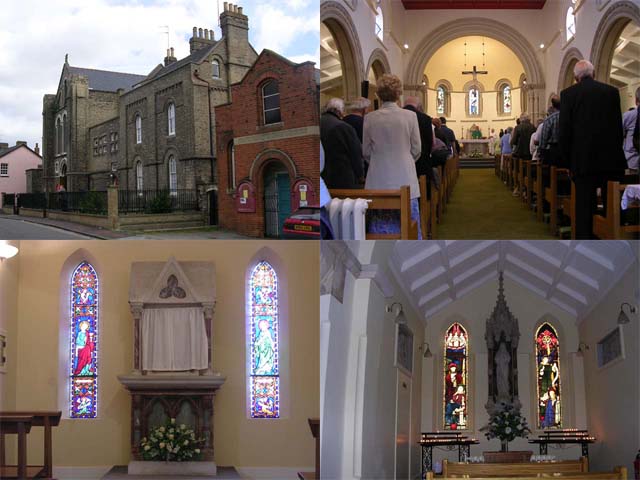 Welcome to St. James the Less and St. Helen Catholic Church.
St. James the Less and St. Helen Catholic church is an open and growing community located in the historic town of Colchester in England.
Our main building is located in Priory Street, Colchester. Mass centres are located in other areas of the town.
Covid-19 Update
FACEMASKS. It is now a legal requirement that facemasks or coverings are worn when entering all places of worship (unless you are medically exempt or under 3yrs).
Dear Parishioners and Friends,
Covid-19 still presents many challenges to us all. It can seem at times overwhelming but despite all the restrictions, let us be thankful that we can once again gather together, despite social distancing, as God's people.
Please note the following norms in order to promote a COVID 19 safe environment :-
- Churches will open 20 minutes before start of Mass as it will take longer than normal to enter the church, please make allowances
- Entrance to Church will be via the main door, exit by the side door
- Hand sanitiser is available at entrance and exit, though you may bring your own
- It will be essential that people sit where they are asked and do not move from there
- The use of face covering/mask in Church is now mandatory (please don't forget yours when attending mass) and that you wear it so that it covers both your mouth and nose.
- When chatting with people from outside your household (or bubble), before or after Mass, you must maintain social distancing. If you are wearing a mask, this means a minimum of one-metre distance. If you are not wearing a mask: two metres distance is essential.
- An Offertory Collection will be taken at each mass with 'collection bags' available on entry and exit; the donation station is also useable
- No touching of Statues or Images in Church
- Toilets will be closed except for genuine emergencies.
- We are still required to have stewards at every Mass and after the service, the church will be cleaned in readiness for the next Mass.

THE PARISH STEWARDS ARE HERE TO HELP AND DIRECT YOU TO YOUR SEAT(S), PLEASE BE POLITE TO THEM AS THEY CAN ASK YOU TO LEAVE THE CHURCH IF YOU DO NOT COMPLY WITH PRESENT GOVERNMENT AND DIOCESAN REGULATIONS.

Anyone displaying symptoms of Covid-19, or who has reason to believe that they have been in contact with someone who has, should not attend church or volunteer in any capacity until they have received medical advice that it is safe to do so.
Meanwhile: -
- For Baptisms, Weddings and Funerals, please contact our parish office.
- Visiting for the Sacrament of the Sick is possible, under certain circumstances.
- Mass Intentions. These can be posted/popped through the letterbox of 51, Priory Street and will be published in the newsletter, which will be available on the parish website.
- If you are self-isolating and would like to speak to a priest or have any worries, please contact us at the Presbytery on 01206 866317 and we will try to help you.