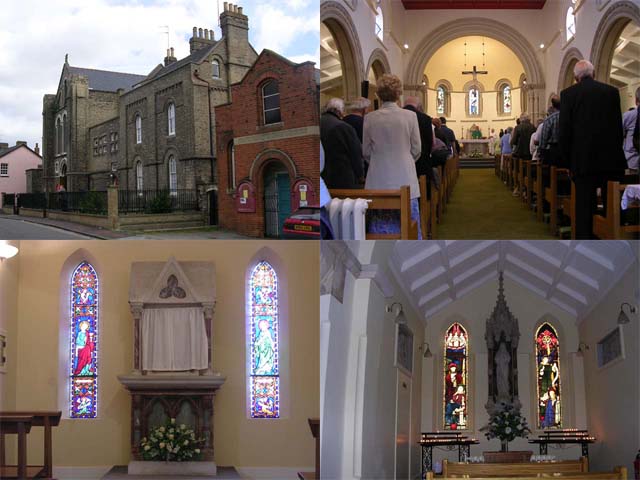 Welcome to St. James the Less and St. Helen Catholic Church.
St. James the Less and St. Helen Catholic church is an open and growing community located in the historic town of Colchester in England.
Our main building is located in Priory Street, Colchester. Mass centres are located in other areas of the town.
Covid-19 Update
Dear Parishioners and Friends,
Relaxation of Covid restrictions: There will no longer be restrictions on group sizes for attending communal worship. Our collective challenge, as restrictions are lifting, is to make sure we all continue to keep ourselves and others as safe as possible.Please note the following changes that will be implemented:-
- There will be an expectation that face coverings are worn in the Church, as per the advice of the Government (unless, of course, a person is exempt from doing so).
- As Social distancing rules have changed there will no longer be Church Stewards at Mass guiding people to their seats, this means that people now have the option of choosing where they wish to sit.
- We will retain a section of the church roped off for those who wish to maintain the 2-metre social distancing.
- Weekday Masses had returned to their normal time of 9.30am from 26th July with Morning Prayer at 9.15am.
- Entrance to Church will be via the main door (no one way system needed).
- The side door will remain open for ventilation and can be used for exiting if wished.
- Communion will remain under one kind.
- Sign of peace will remain non physical.
- Singing at Masses is gradually being introduced.
- We will continue to supply hand sanitiser stations at entrance and exit.
- An Offertory Collection box will be situated at side door; the donation station is also useable.
- There will be no restrictions on the number allowed to attend Funerals, Baptisms and Wedding

Anyone displaying symptoms of Covid-19, or who has reason to believe that they have been in contact with someone who has, should not attend church or volunteer in any capacity until they have received medical advice that it is safe to do so.